As an internet search quickly shows, several well-known men share the name Michael Green. This one is about the Revd Dr Michael Green (1930-2019), who impacted many thousands of lives for Jesus Christ. He lived most of his life in Britain but had a global influence through his books and travels.
Some Christian leaders are scholars, some are pastor-teachers, some evangelists and some authors. Michael had the rare distinction of excelling in all those roles. This website introduces you to something of his story, his 75 books and the ways God used him to touch the lives of many. Despite Michael's fast-paced life, he found time to encourage individuals.
But to him, what mattered most? Simply to share the good news which he had discovered as a teenager and which he spent the next seven decades passing on to others. He wrote this in his book 'Compelled by Joy: a passion for evangelism' :
"The term 'evangelist' is restrictive. It does not tell you who I am: a husband, father, grandfather and sports enthusiast. I am both an academic and a pastor, both driven and lazy, both humble and proud, both sociable and reclusive. I am a mixture. We all are. But at the core of that confused muddle which is myself, there is a passion burning. It has been burning away since my late teens, sometimes brightly, sometimes smouldering dully. It is simply this: I have found treasure – by no skill of my own – and I want to share it as widely as I can."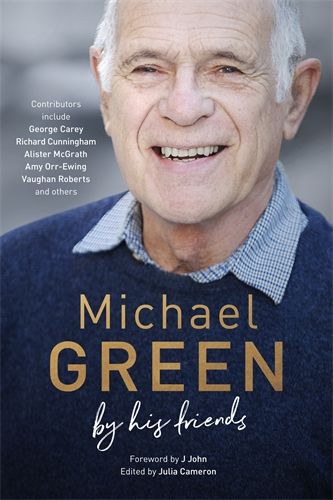 The 2019 book 'Michael Green – by his friends' recounts in more detail the many sides of his wide impact and exuberant personality. You can get it here.
This website has only a few pages but if you have suggestions about how to expand it please get in touch. Or write in with your own memories of Michael Green. Please click here to use our contact form.